As part of our Norwich Square Holiday Festivities,
we celebrate another wonderful collaboration between the legendary storyteller, Willem Lange, and extraordinary illustrator, Bert Dodson.
This informal event does not require reservations. If you wish to have a book signed but are unable to attend, please let us know and we will be happy to arrange it!
Event date:
Thursday, December 6, 2012 -

5:00pm

to

7:00pm
Event address:
Norwich Bookstore
291 Main Street
us

$17.95
ISBN: 9781593731090
Availability: Usually Ships in 1-5 Days
Published: Bunker Hill Publishing - October 17th, 2012
A boy is sure he has the world's best father, an outdoorsman who shows him the hiding places of ground-nesting birds and teaches him to paddle a canoe and handle a rifle safely. Never point your gun at anything you don't intend to shoot, his father tells him, and don't kill anything you don't intend to eat. When he's eight years old, he is finally allowed to go to hunting camp with his father.
---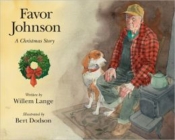 $16.95
ISBN: 9781593730826
Availability: On Our Shelves Now
Published: Bunker Hill Publishing - October 1st, 2009
Favor Johnson lives on a small farm in the hills of Vermont. He keeps to himself, surrounded by dozens of animals, chickens, geese, and his one constant friend, a hound named Hercules. Then one Christmas Eve Hercules' life is saved by Favor's new neighbor, a doctor, and Favor's whole life -- as well as the life of everyone in his village -- is changed forever.
---

$15.95
ISBN: 9780916718176
Availability: Special Order
Published: Vermont Folklife Center - June 1st, 2001
Popular North Country yarn-spinner Willem Lange interprets the true tale of a young logger who is saved by his remarkable Morgan horse after an accident in the woods. Luminous watercolors beautifully convey the mutual bond of love and trust between man and animal, while the warmhearted narrative calls out to armchair readers young and old. Concluding activity page. Ages 6-10.
---