In collaboration with the Norwich Public Library, the Norwich Bookstore is thrilled to to host highly acclaimed author and illustrator, Gail Gibbons. We invite you to stop by to meet Gail, browse a selection of her many titles, and have books autographed as part of the 98th Annual Children's Book Week!
Gail Gibbons has created more than 170 richly illustrated, non-fiction books for children. Her books are particularly accurate because she goes right to the source when researching a topic. She has been on the seventeenth floor of a skyscraper in progress, has spoken with truck drivers about how their rigs work, and has dismantled every clock in her home. She says "I had a lot of 'whys' when I was a child. I guess I still do." And we are fortunate that her curiosity has resulted in wonderful books that explain a wide range of subjects to children. Her most recent book is Transportation. She and her husband divide their time between Vermont and Maine.
Children's Book Week is the longest-running national celebration of books for young people and the joy of reading. More than 650 schools, libraries, and bookstores in all 50 states hold official events between May 1-7. The theme for this year's celebration is "One World, Many Stories." All participants will receive a free activity poster designed by Christian Robinson (while supplies last) and have access online - at Every Child a Reader - to specially designed bookmarks and other book-related materials.
Event date:
Saturday, May 6, 2017 -

10:30am

to

12:00pm
Event address:
Norwich Bookstore
291 Main Street

$17.95
ISBN: 9780823434251
Availability: On Our Shelves Now (call or email to check availability)
Published: Holiday House - February 28th, 2017
From cars and trains to plains and boats, people all around the world have developed diverse means and methods of travel. In this fascinating exploration of transportation, Gail Gibbons employs her signature, colorful artwork and accessible text to explain transportation choices to young readers.
---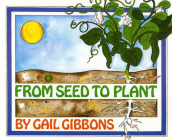 $7.99
ISBN: 9780823410255
Availability: Usually Available in 1-5 Days
Published: Holiday House - January 1st, 1991
Do you know how a seed begins? What pollination is? How
flowers, fruits, and vegetables get to be the way they are?

The mystery of how seeds are formed and grow into plants is revealed for young readers in this informative book.

Included in Appendix B of the Common Core State Standards.
---