Night Play illuminates a truth we all once knew - that our stuffed animals do not go to sleep just because we do. Arlo might be sleepy, but his friends are determined to go "on with the show" and finish the play. The illustrations, on die-cut pages that fold out like stage curtains, are vivid and lively, and the simple prose gently inspires cooperation. The result is absolutely delightful.
A Name for Baby is the charming story of a mother mouse finding the perfect name for her baby mouse. With lyrical wordplay that makes it a joy to read aloud and magical, playful illustrations that bring the woodland creatures and the moon into the story, the whole experience is a pleasure.
"Boyd's writing is lyrical, reflecting the joy of a new child while also conveying the tranquility of nature" -- School Library Journal
Lizi Boyd is the author and illustrator of many wonderful children's books, including Big Bear Little Chair, selected as a New York Times Best Illustrated Book, and Flashlight, winner of the internationally prestigious BolognaRagazzi Award. She lives in Norwich.
***
Note Date Change!
Reservations are not needed for this informal event though we apprecate advance book orders so we do not run out!
As always, we are happy to make arrangements to have books signed for you if you cannot attend.
Event date:
Saturday, November 17, 2018 -

10:00am

to

12:00pm
Event address:
Norwich Bookstore
291 Main Street

$17.99
ISBN: 9781452155296
Availability: Usually Available in 3-7 Days
Published: Chronicle Books - November 6th, 2018
It's time for bed. Everyone is asleep. Or are they?

Arlo and his stuffed animal friends like to put on pretend plays. But after Arlo falls asleep, his friends don't want to stop. Can they work together to put on their play?

---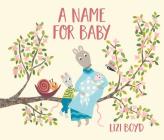 $17.99
ISBN: 9781524714192
Availability: Special Order (email to check availability)
Published: Random House Books for Young Readers - June 19th, 2018
Animals gently angle to have a new baby named after themselves in this sweet picture book by Lizi Boyd, whose previous work was named a New York Times Best Illustrated Book of the Year.

---

$16.99
ISBN: 9781452144474
Availability: Special Order (email to check availability)
Published: Chronicle Books - October 6th, 2015
A New York Times Best Illustrated Book of 2015
In this artful and deceptively simple book, master book creator Lizi Boyd is at it again. Using her inimitable style to expand upon a familiar concept, she has created a compendium of unexpected opposites that is also a charming and emotionally warm story about Big Bear, little bear, and the stories that bring them together.
---