Gathering titles for young readers as we discover them...
Some are future publications.
Check back soon!

$17.99
ISBN: 9780762495191
Availability: On Our Shelves Now (email to confirm availability)
Published: Running Press Kids - October 6th, 2020
A timely and timeless picture book about immigration that demonstrates the power of diversity, acceptance, and tolerance from a gifted storyteller.

A Kirkus Best Books of 2020
A School Library Journal Best Books of 2020

"An engaging, beautiful, and memorable book." --Kirkus Reviews, starred review

&
---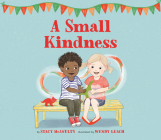 $17.99
ISBN: 9780762495221
Availability: Coming Soon - Available for Pre-Order Now!
Published: Running Press Kids - February 2nd, 2021
Teach the importance of goodwill with this impactful picture book with a solid pay-it-forward message to encourage kindness in young children—from the award-winning author of Excellent Ed and Sun! One In a Billion.

It was like a game of tag, with one small act of kindness spreading throughout a small community of kids and teachers alike.

---

$17.99

ISBN: 9781338630749

Availability: Coming Soon - Available for Pre-Order Now!

Published: Scholastic Inc. - March 2nd, 2021

A beautiful and inclusive picture book all about celebrating being yourself from Down syndrome advocate and viral sensation Sofia Sanchez!
It can be hard to be different-whether because of how you look, where you live, or what you can or can't do. But wouldn't it be boring if we were all the same? Being different is great! Being different is what makes you YOU.


---

$17.99

ISBN: 9781338053142

Availability: Usually Available in 3-7 Days

Published: Scholastic Press - August 29th, 2017

Presented as a thoughtful, poetic exchange between two characters -- who don't realize they are thinking and asking the very same questions -- this beautiful celebration of our humanity and diversity invites readers of all ages to imagine a world where there is no you or me, only we.


---

$18.99

ISBN: 9780545478533

Availability: Usually Available in 3-7 Days

Published: Arthur A. Levine Books - January 27th, 2015

For most children these days it would come as a great shock to know that before 1967, they could not marry a person of a race different from their own. That was the year that the Supreme Court issued its decision in Loving v. Virginia.


---

$17.99

ISBN: 9781338627053

Availability: On Our Shelves Now (email to confirm availability)

Published: Scholastic Press - October 6th, 2020

A heartwarming and visually diverse book about the fundamental value of kindness and how kids can join in.
Imagine a world where everyone is kind.
How can we make that come true?


---

$17.99

ISBN: 9780525518778

Availability: On Our Shelves Now (email to confirm availability)

Published: Nancy Paulsen Books - September 1st, 2020

Winner of the NCTE Charlotte Huck Award!

An upbeat, empowering, important picture book from the team that created the award-winning Crown: An Ode to the Fresh Cut

I am
a nonstop ball of energy.
Powerful and full of light.
I am a go-getter. A difference maker. A leader.


---

$19.99

ISBN: 9780593206751

Availability: On Our Shelves Now (email to confirm availability)

Published: Philomel Books - October 6th, 2020

An instant New York Times bestseller!

From Oliver Jeffers, world-renowned picture book creator and illustrator of The Crayons' Christmas, comes a gorgeously told father-daughter story and companion to the #1 New York Times bestseller Here We Are!


---

$17.99

ISBN: 9781338574852

Availability: On Our Shelves Now (email to confirm availability)

Published: Orchard Books - October 6th, 2020